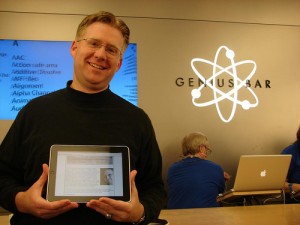 Registration for iPad Media Camps in Summer 2014 is available, including early-bird pricing! Locations this summer include Illinois, Texas, Kansas and Alabama. These workshops are geared specifically to K-12 classroom teachers. College/university faculty can also benefit from the workshop's focus on iPad-based multimedia products students can create to demonstrate what they know and can do. (The June 16-18, 2014, session is for elementary teachers only, however.)
iPad Media Camp* is a three day series of hands-on workshops designed to inspire and equip educators to facilitate student media projects using iPads. Participants should BYOI (bring your own iPad) to camp. iPad Media Camps are led and facilitated by Dr. Wesley Fryer, author of the 2013 ebooks, "Mapping Media to the Common Core: Vol 1" and "Hopscotch Challenges: Learn to Code on an iPad!" and the 2011 ebook "Playing with Media: simple ideas for powerful sharing." Some 2014 camps are also co-led by Gail Lovely and Cyndi Danner-Kuhn.  2014 will be the third summer of iPad Media Camps!
Dates and locations for summer 2014 iPad Media Camps are:
(The previously scheduled June 10-12, 2014 iPad Media Camp in Oklahoma City has been cancelled due due to low enrollment)
Some reactions and quotations from participants in past iPad Media Camps:
Dr. Fryer made the impossible happen for me. I was able to create movies and books!  I'm an old dog and he made it fun and easy to learn new tricks. Great workshop and a great presenter.

If you are interested in coming up with innovative ways to engage your students in class with media they are truly interested in, you need to attend this camp. The things I've learned in this camp, and others taught by Wes, have made my class exciting for kids to attend and helped make them responsible media creators.

Go directly to Media Camp. Do not pass GO, do not collect $200!  It was so worth my time.  Even old dogs can learn new tricks!  Thank you for all your hard work.
Check out the two minute video trailer for iPad Media Camp from 2012 to learn more! **
Participants will learn activities and assessment strategies aligned to the Common Core State Standards (CCSS) Initiative, Oklahoma C3 Priority Academic Student Skills (formerly "PASS Standards") and the National Educational Technology Standards for Teachers and Students.
More information is available about iPad Media Camp:
Learn more about Wesley Fryer by reading his bio, checking out his digital footprint, reading his blog ("Moving at the Speed of Creativity") and following him on Twitter (@wfryer), Facebook and/or Google Plus. An audio podcast of "Lessons Learned" from the June 2012 iPad Media Camp is also available.
Please follow @iPadMediaCamp on Twitter to stay up-to-date.
* iPad Media Camp is an independent workshop and has not been authorized, sponsored, or otherwise approved by Apple Inc. iPad® is a trademark of Apple Inc. See "Guidelines for Using Apple Trademarks and Copyrights" for more information. Direct all questions about iPad Media Camp to Wesley Fryer.
** This video trailer was created using the "Explain Everything" iPad app, as well as the free  "On Air" Teleprompter app. All included images are licensed under a Creative Commons, Attribution-Only license and linked on Wesley Fryer's Flickr channel.